Mike Dean & VAR face backlash again after controversial red card for Soucek
07-Feb-2021, 02:55 am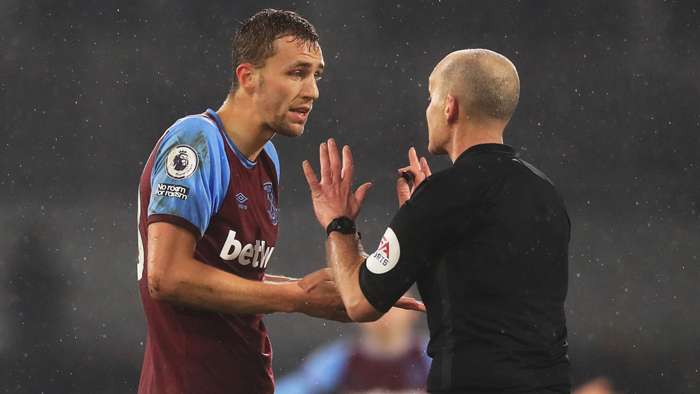 Tomas Soucek was controversially sent off during West Ham's London derby draw with Fulham.
Soucek was trying to create space that was being denied to him by Mitrobvic, and in a bid to get a yard of clearance he caught the Fulham man with his arm.
There did not look to be any intent, it appeared to be a case of him keeping the Fulham forward clear of him, but referee Mike Dean was summoned to the touchline camera by the VAR.
Dean took some time before returning to the pitch and brandishing a red card to the bewildered West Ham man.
Twitter is not often the best barometer for debates on controversial moments in football, but Gary Lineker says the platform is united on this one.
"Can't find a soul on here that thinks that's a red card," Lineker wrote. "How can both Lee Mason and Mike Dean both see it as a red? Tomas Soucek must get that overturned."
It seems almost certain that West Ham will lodge an appeal, which former Liverpool defender Jamie Carragher feels must be found to be correct.
For VAR, it is another moment in the spotlight that football's governing bodies could do without.
The slow motion replays tend to make things look worse than in real time, but even at half speed there did not appear to be anything wrong in what seemed to be an accidental coming together of two players.
Should Soucek fail in any appeal, and a ban for violent conduct is confirmed, he will miss the trip to Manchester United in the FA Cup and Premier League games with Sheffield United and Tottenham.
---
Source : goal.com
---