'He has to have fun again' - Liverpool winger Shaqiri urged to return to Bundesliga
02-Oct-2020, 11:05 pm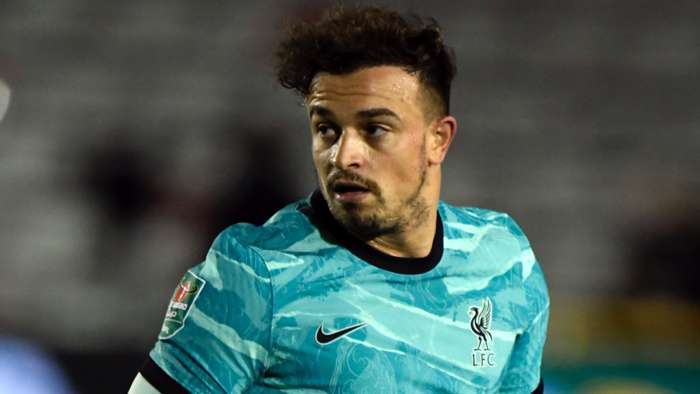 Liverpool winger Xherdan Shaqiri has been urged to make a return to the Bundesliga by his former national team manager Ottmar Hitzfeld.
When asked about Shaqiri's future, Klopp said: "I can't and I don't want to say anything about that. What I can say is he is not injured and it is not for disciplinary reasons.
"It is a time of the year when a manager gets some informationthen I have to react on that."
It is unclear which teams may have made an approach for Shaqiri, but Goal and SPOX reported that Roma and Sevilla were interested in theSwitzerland internationalback in April.
Hitzfeld, who managed Switzerland between 2008 and 2014, has urged Shaqiri to return to Germany, where he played with Bayern Munich between 2012 and 2015.
"Xherdan should move to a club where he plays regularly,"Hitzfeld told Blick."He has to have fun again, we all want to see the happy Xherdan again. A move would be good for everyone around him and for his fans."
Hitzfeld named German clubs where Shaqiri could do well, saying: "In the Bundesliga a club like Gladbach, Leverkusen or Wolfsburg.To gain a foothold again and to get match practice."
Shaqiri arrived at Anfield from Stoke ahead of the 2018-19 season and played a major role in his first season with Liverpool, making 30 appearances and scoring six goals.
However, the winger fell down the pecking order under Klopp last season, making just 11 appearances while tallying two goals.
In August, Shaqiri underlined his commitment to the Reds, though he admitted that the 2019-20 campaign was a "frustrating" one for him.
"Always if you are injured or if you are not playing, you're frustrated," he told the club'swebsite.
"But I'm looking forward to this season and trying to help the team all the time, so I have the chance to play like the first season."
Shaqiri began his career with FC Basel in his native Switzerland before making the move to Bayern in 2012. After spending one season with Inter, the winger joined Stoke ahead of the 2015-16 campaign.
---
Source : goal.com
---