Players 'don't trust' Van de Beek, says former Man Utd star Hughes
10-Feb-2021, 03:12 pm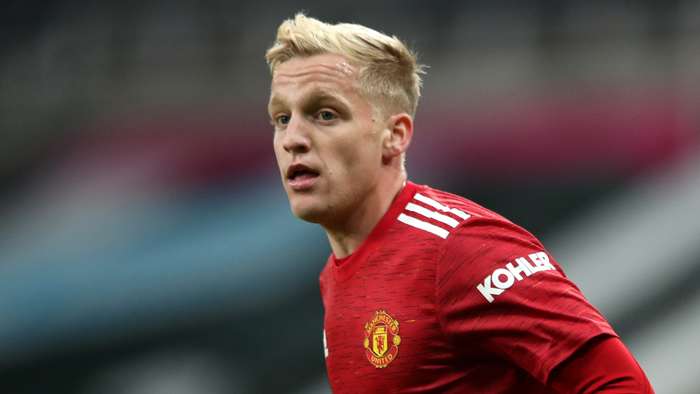 Former Manchester United striker Mark Hughes has suggested that Donny van de Beek's slow start to life at the club is down to a lack of trust from his team-mates and says the Dutchman must do more to warrant a spot in Ole Gunnar Solskjaer's starting XI.
The 23-year-old was eventually replaced by Fernandes after 73 minutes following a largely ineffective performance against a defensive Hammers side and Hughes feels that more quality must be shown if Van de Beek is to become a key player for Solskjaer.
"You just sense… it looks like they don't trust him with the ball yet," three-time FA Cup winner Hughes told talkSPORT of Van de Beek.
"I haven't seen a great deal of movement, I haven't seen little movements to get in pockets of space, even though you suspect that's the player he is and those are the areas he wants to work in.
"He's been disappointing again. He's playing for Manchester United, a huge club, he's got to show more than he's showing at the moment.
"You want to give the boy a chance, and he probably feels a bit aggrieved that he hasn't had a run of games, he's probably feeling a bit hard done by. But you have to say, given what he's produced in the time he's had, he doesn't deserve more than that.
"So he's got to show more."
Van de Beek's boss was more forgiving of his performance, however, telling reporters after the match: " I thought in the first half, we and Donny played really well.
"We created spaces and he was part of that. He did his job neat and tidy, had a half chance. In the second half, the whole team fell off a little bit and we just wanted to make a few changes."
As well as Van de Beek, Solskjaer took time in his press conference to praise Dean Henderson and Mason Greenwood.
"Mason did really well," Solskjaer said. "He played well managing his minutes, played the last three games. Anthony Martial played a game the other week and we wanted him to complete the game.
"I always hope our keeper has a quiet night when we play and most of the time it's happened that way.
"Today Henderson was clearing everything, apart from the last header. As a keeper, David De Gea has been used to this for years; to keep concentrated, keep your eye on the ball, then suddenly one moment comes up and you have to make a save. Hopefully that's the way for many years."
Van de Beek again fails to fill in for Fernandes in Man Utd's FA Cup win over West Ham (Feb 9)
Man Utd equal 109-year-old record with FA Cup win over West Ham (Feb 9)
Fernandes: I wouldn't be happy if I was Van de Beek (Jan 25)
---
Source : goal.com
---